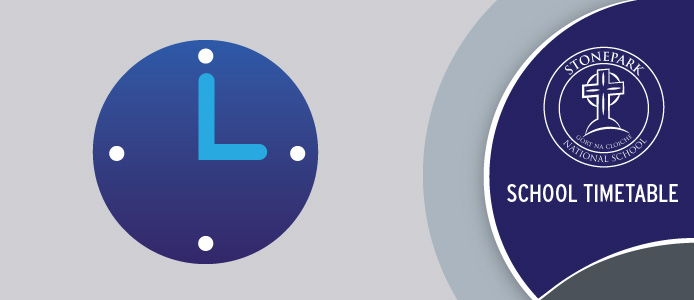 Infants 9.20a.m. – 2p.m.
Other Classes 9.20a.m. – 3p.m.
Breaks: 11-11.15a.m.
Infants – 2nd Lunch (12.30p.m. – 1p.m.)
3rd – 6th Lunch (1p.m.- 1.30p.m.)
School Calendar 2022/2023
Start Term
Tuesday, 30th August 2022, 9.20a.m.
October Mid-Term Break
Friday, 28th October, 3p.m. – Monday, 7th November 2022, 9.20a.m.
(1 week)
Christmas Holidays
Wednesday 21st December 2022, 12 noon –Thursday 5th January 2023, 9.20a.m.
St Brigid's Day
Monday, 6th February 2023
February Mid-Term Break
Thursday, 16th and Friday, 17th February 2023
St Patrick's Day
Thursday 17th March 2023
Easter Holidays
Friday, 31st March, 12 noon to Monday, 17th April 2023, 9.20a.m.
May Bank Holiday
Monday, 1st May 2023
June-Bank Holiday
Friday, 2nd June and Monday, 5th June 2023
Summer Holidays
Friday, 23rd June 2023, 12 noon
 TÚSLA (Child and Family Agency) will automatically be informed through the electronic attendance record if a child has missed a total of 20 days in the school year. Every absence of a child from school must be accounted for by giving the child a note to explain his/her absence on his/her return to school. Please note that the roll is called every morning at 9.30a.m.
Parents will be notified by text message of any incidental closures that may arise during the academic year.