Sports Update
Rugby coaching from IRFU with Dylan Quinn has been ongoing in the senior classes this term. We hope to continue this coaching in the new year.
Gaelic Football coaching with James Moran will continue after Christmas.
Swimming lessons will continue as scheduled.
The senior school Basketball teams are currently participating in the County Longford Basketball League.
The volleyball season will start after Christmas.
Operation Christmas Child
This year we collected 168 boxes for Team Hope Christmas Shoebox Appeal. Thanks to all the children and parents for their most generous response.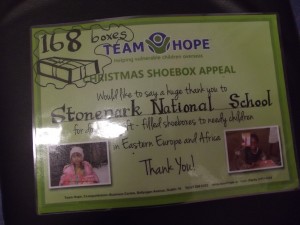 Sacrament of Reconciliation
Fr. Michael McGrath, Fr McKiernan, Fr Joseph and Fr Reggi visited the school to celebrate the Sacrament of Reconciliation with the children from 3rd to 6th class in their Advent preparation for Christmas.
Christmas Show in the Temperance Hall
Junior Infants, Senior Infants, 1st Class and 2nd Class visited The Temperance Hall for the Christmas show 'Elfie Saves Christmas' by the Talisman Theatre Company. It was a wonderful experience for all the children (and grown ups!) who engaged with drama and interacted with the characters. The children thoroughly enjoyed it.
Lighting of the Christmas Tree
Our school choir under the musical direction of Ms Leavy entertained parents and Grattans GAA at the lighting of the Stonepark Christmas Tree  celebrations on 7th December with a selection of Christmas carols and songs.
Bring and Buy Sale
6th class hosted the annual 'Bring and Buy' sale on Friday 15th December. The sale generated the usual excitement and Christmas spirit and was enjoyed by all. These budding entrepreneurs and business people of the future baked buns, advertised, collected goods, painted nails, held competitions, sold raffle tickets, priced goods and wheeled and dealed to make this event a huge success. Míle buíochas Rang a Sé and Ms Mulvihill. €812 was raised which will be used for school resources.
Visit from Santa
The children in all classes were delighted to welcome Santa and his elves to the school on Wednesday 19th December. This year Santa brought PE equipment for all classes. Thanks to Geraldine and our hard-working Parents Association for organising this treat.
Christmas Shows
The talented 5th class hosted their X-Factor show on Thursday 2oth December. Their audience was treated to acts of  Synchronized Baby dancing, singing, dancing. Simon Cowell, Santa Claus , Queen Elizabeth 2 and Donald Trump (on an unofficial visit to Ireland!) dropped by to adjudicate the competition! The Stonepark Guinness Book of Records was even broken by David who recited the 50 states of America in 22 seconds!
The Junior Infant classes treated us to 'The Lazy Shepherd' story of the first Christmas. Well done everyone.Children in other classes actively participated in Christmas festivities by making fabulous Christmas cribs and Christmas visual art and Drama within their own classrooms. Well done all and Happy Christmas.
Carol Service
Fr. Michael joined with us to celebrate the true meaning of Christmas in our Carol Service on Friday 21st December. The children read the story of the first Christmas,  prayers of the faithful and sang their hearts out at our prayerful carol service under our own musical director Ms. Leavy.