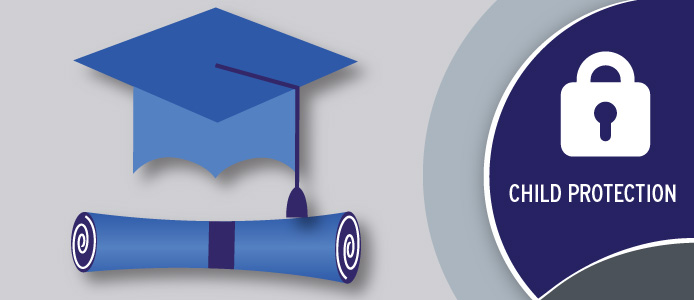 The Board of Management of Stonepark NS recognises that child protection and welfare considerations permeate all aspects of school life and must be reflected in all of the school's policies, practices and activities. Accordingly, in accordance with the requirements of the Department of Education and Skills' Child Protection Procedures for Primary and Post Primary Schools, the Board of Management of Stonepark NS has agreed the following child protection policy:
1. The Board of Management has adopted and will implement fully and without modification the Department's Child Protection Procedures for Primary and Post Primary Schools as part of this overall child protection policy.
2. The Designated Liaison Person (DLP) is Ms Meriel McCord
3. The Deputy Designated Liaison Person (Deputy DLP) is Deputy Mrs Deirdre Mulligan
4. In its policies, practices and activities, Stonepark NS will adhere to the following principles of best practice in child protection and welfare: The school will:
 recognise that the protection and welfare of children is of paramount importance, regardless of all other considerations;
 fully co-operate with the relevant statutory authorities in relation to child protection and welfare matters
 adopt safe practices to minimise the possibility of harm or accidents happening to children and protect workers from the necessity to take unnecessary risks that may leave themselves open to accusations of abuse or neglect;
 develop a practice of openness with parents and encourage parental involvement in the education of their children
 fully respect confidentiality requirements in dealing with child protection matters.
The school will also adhere to the above principles in relation to any adult or pupil with a special vulnerability.
5. This Child Protection Policy is to be adhered to in conjunction with other policies, practices and activities that are particularly relevant to child protection, such as:
Code of Behaviour
Anti-Bullying Policy
Administration of Medication
Substance Use Policy
Data Protection
Special Education Needs
Acceptable Usage Policy
Enrolment Policy.
The Board has ensured that the necessary policies, protocols or practices as appropriate are in place in respect of each of the above listed items.
Toileting and Intimate Care
Children with SNA care will be cared for fully by the SNA where there are toileting needs. In the event that the child's assigned SNA is absent, parental consent will be sought to confirm their support for Principal/Deputy Principal's discretion in assigning an alternate SNA from the school to attend and support to the child's needs. In the event that a child in the class has a toileting accident, the parent will be contacted as soon as possible. The child will be supplied with dry clothing and where possible, they will change themselves. If needs be, and in the event that the parent is not contactable, two members of staff will support the child. A record shall be kept by the class teacher with details of the event.
Garda Vetting/Recruitment of Staff
All staff and members of the public who will be engaged to work with the pupils, will be Garda vetted prior to this engagement (as per Circular 63/2010)
Behaviour
Children are to be encouraged at all times to play co-operatively and inappropriate behaviour will be addressed under our Code of Behaviour. If an incident occurs which we consider to be of a sexualised nature we will notify the DLP who will record it and respond to it appropriately.
Changing for Games/PE/Swimming
Where changing facilities are available, children will change together supervised in a discrete manner by a teacher. Staff will avoid assisting children with anything of a personal nature. Two members of staff will support a child if a particular need arises. If a child has a particular need in this area, a parent will be invited to join the activity and support their own child.
Supervision of Children
Staff will never transport children in their own cars. In the event that a child is left uncollected, every effort will be made to contact the parent/guardian. If they are uncontactable, a taxi will be called and a member of staff will travel with the child home. A record of the event will be kept. Teachers will ensure that children are visible in the school yard. Children will not be allowed to spend time in classrooms, toilets or behind sheds where they would not be under adult supervision. They are not to leave the school yard or to engage with individuals who are outside of the school yard. All contact must be accessed through the teacher on duty. Where the school is aware that there is a court order in place which prevents someone from having access to a child, a copy of that order shall be requested.
One-to-one Teaching
All rooms utilised for one-to-one teaching are fitted with glass panels to ensure visibility. Alternately the door will be left open.
Medication/First Aid
All staff will be trained (Dec 2016) in Basic Life Support which covers asthma, cuts and bruises, shock, choking, anaphylactic shock, de-fib usage and cardiac arrest. All staff have received training in the application of epipens. In the event of a child needing an epi-pen, the pen will be provided by the parent and stored in the classroom of the child. The first aid station is located in the disabled toilet downstairs. The fridge containing the ice packs is located in the second class classroom. Where a child requires access to an inhaler, when the child is capable of storing and using this by themselves, this will be facilitated by the school with parental consent. Otherwise, the inhaler will be stored by the classroom teacher and given to the child as need arises. Ongoing medical needs will be agreed with the parents at the outset of the year. Where incidental medical needs arise, parents are requested to inform class teacher of such. If a medical need arises during the school day, parents will be contacted and staff will support the needs of the child.
Visitors/Guest Speakers
Teachers on yard duty will be aware of visitors entering the school yard and will ascertain their intentions. Visitors entering the school should report at reception. They will be supervised in the discharge of their business. Visitors and Guest Speakers will be vetted prior to engaging with the school (as per Circular 63/2010). The class teacher will remain present at all times (as per Circular 22/2010).
Induction of Teachers and Ancillary Staff
The DLP/Deputy DLP will be responsible for informing all new teachers and ancillary staff of this policy and the Children First Guidelines (1999).
Attendance
With regards to child protection we will pay particular attention to trends in non- attendance. We will also monitor non-attendance in correlation with signs of neglect/ physical/ emotional abuse. Further information and Best Practice guidelines can be accessed in the Appendix 1.
This policy has been made available to school personnel and the Parents' Association and is readily accessible to parents on request and accessible on the school website. A copy of this policy will be made available to the Department and the patron if requested.
This policy will be reviewed by the Board of Management once in every school year. This policy was adopted by the Board of Management on _________________[date]
Signed: _____________________________(Principal)
Signed: _________________________________(Chairperson of Board of Management)
Date: __________________________
Date of next review: September 2017
This summary of Procedural Policy and Principles of Best Practice in relation to Child Protection will be reviewed by the Board of Management once in every school year.